Journalism News Network
Average rating:
0 reviews
Kiev Boryspil Airport Layover Ukraine 4 hours -what to see?
First point to note here is that there is no direct train or metro from Kiev airport to city center. You have only two options either public transport bus or private cab.
Public bus to Kiev city center departs just outside the airport, charges around 100 UAH (Ukraine currency) and takes around 1 hour assuming there is no traffic jam and private cab may take around 30 to 40 minutes.
So if you have only have 3 to 4 hours layover in Ukraine than perhaps it is best to stay at airport because ideally you need to be at airport around 2 hours before and 1 hour travel time each side from airport to city center.
Kiev Airport Layover 6 to 7 hours -what to see?
If you have 6 to 7 hours layover in Kiev you have around 2 to 3 hours at you disposal to see the city provided you come out of customs promptly.
Please note most people don't speak English as Russian language is fluently spoken there. You can change your currency inside airport.
Vienna Airport Layover and Review
Please note there are few counters for changing currency. Many of them are private where currency exchange rate is not good but in the end near exit there is one official currency exchange rate counter and exchange rate is amazingly very good almost mid market rate which is very very rare.
Singapore Airport Layover and Review
Also note that the place where the public transport bus leaves you is very crowded with lots of shops and fast food restaurants and also train station but is it not the actual city center.
City center which is of European standard is around 3 metro stops away from the point where the bus drops you.
Kiev is very economical. The minimum salary is around $200 per month although I find many apartments prices very disproportionate to the average income. Example $50,000 for 1 bed apartment of around 30 sq meters.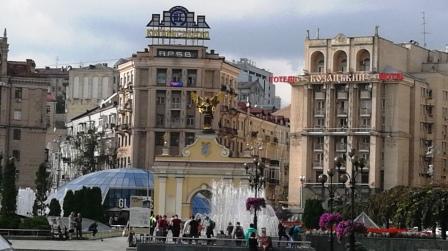 You can explore many beautiful monuments in Kiev city center, fancy food joints and shopping mall.
Overall city center offers pleasant experience if you have few hours to explore. 🙂