Updated on 31st Jan 2019: The 12th edition of ÉCU – The European Independent Film Festival was held in Paris, France on 21st, 22nd, and 23rd of April 2017.
The festival is the brainchild of Mr. Léon Desclozeaux, who has been an ÉCU's Godfather for many years!
Speaking about ÉCU Film Festival Leon said " My point of view is that ÉCU – The European Independent Film Festival, with is having it's 14th edition, on the 5th, 6th and 7th of April, 2019 in Paris, France, is quite important because this festival shows many worldwide independent films from India, America, Australia, Africa, Asia, Europe, etc. that demonstrate quality, innovation, and creativity in both form and content.
It is often referred to as the Sundance of Europe.
ÉCU screens around 100 films per year, to a public that is really concerned about cinema that would never see in any other theater as these movies are not
blockbusters so mostly never distributed in Paris and or in France or broadcasted on any French television channel.
ÉCU also give an incredible possibility to discuss, exchange and share opinions with directors and artist who made these movies that come from many different countries and that are in Paris during the festival and this is really an amazing intellectual enrichment that opens our mind to different storytelling, culture and perception of the world which is such important for keeping a spiritual and human perception in front of the global evolution
Cannes Film Festival 2019 tips
I am very proud to be "godfather" of the ÉCU Independent film festival, for the last several years and I am doing everything I can and will do it forever to promote and help the ÉCU film festival and its founder and president Scott Hillier and his wonderful crew for their amazing work and opened mind dedication to independent films from all around the world.
Léon Desclozeaux was born on March 3, 1951 in Paris, France and he is a renowned producer, director, well known for Chittagong: The Last Stopover (2000), Mora (1982) and Tokyo detective (1985).
ECU Festival was cool and fun with substance and is often referred to as the Sundance of Europe.
The positive aspect of the ECU Film Festival:
The festival was having a very cool atmosphere. Although the whole day, there was the screening of the various films along with various informative workshops in between, there was live music in the same compound with complimentary beers and ample time for the actors, directors and media person to mingle and share ideas and networking.
After each day in the evening, there were parties which were well organized at various venues and the best one was on the last day on the river's King boat 2 Quai DE Grenelle 75015 Paris.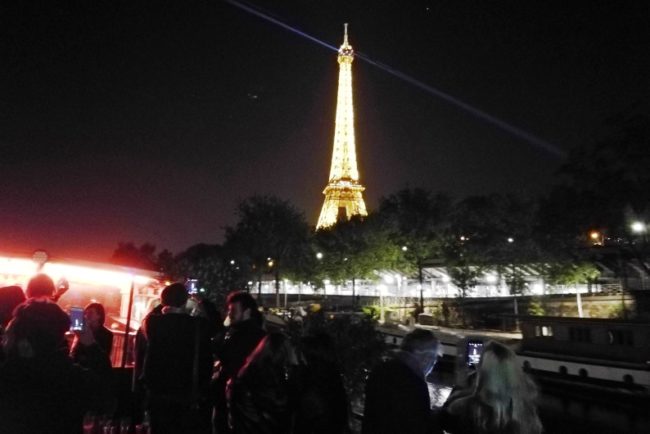 Highlights of the ECU film festival below.
The ECU festival also organized various informative workshops for the benefits of young film professionals to get insight into the field of the film business. For example, film industry veteran executive producer shared all about the film making process and changes after the digital advent.
Gareth Jones mentioned that the filmmaker needs both artistic and business skill. To get detail insight into film making business, you may visit interview of Gareth Jones.
ÉCU – The European Independent Film Festival is dedicated to the discovery and advancement of the very best independent filmmakers from around the world.
Young filmmakers get the chance to showcase their hard work to a variety of audience and some win the awards too. 🙂
I interacted with some of the jury members of the ECU film festival and it turns out that it was not an easy job for them too as all of them has to watch at least 30 plus movies and then intense discussion to decide which movie is the best one.
IIFA 2016 Video highlights Green Carpet Madrid
Monaco International Film Festival Highlights
ECU Film Festival may incorporate the following suggestion for the improvements in the future:
1) ECU Film Festival can further improve by inviting more media organizations/journalist as that is what young film professionals need more to get noticed.
2) Give due recognition to media partners/partners on their banners/print materials/during the festival or they may lose interest.
3) Festival may consider holding events/screening in such a manner so that more and more people can attend each film. By dividing screens they do give viewers more options but filmmakers get less audience and most importantly in case of the informative workshop where they want to attend both but can't as they may be held at the same time at the different venue.