YouTube to soon launch YouTube TV at $35 per month and is set to begin broadcasting 40 channels starting in a few months and may end up killing cable and make TV mobile, flexible, easy and of course competitive.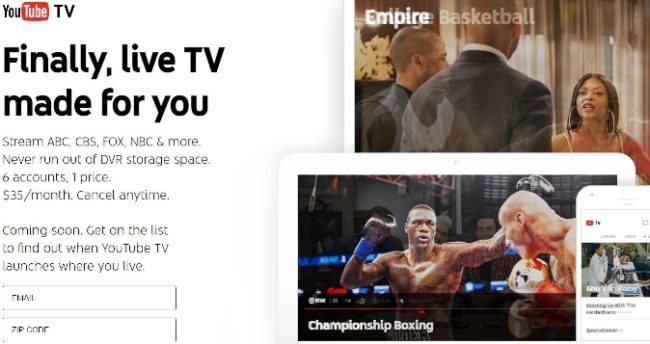 YouTube has entered into the field of a new paid TV service that streams over the internet and formally unveiled its YouTube TV, its answer to services such as Dish's SlingTV, AT&T's DirecTV Now, etc. YouTube TV will launch in a few months in the US.
It will cost $35 per month and there are no contracts, so one can cancel anytime. YouTube TV includes all four major broadcast networks, CBS, ABC, NBC, and Fox, but won't have channels from Viacom or Turner.
YouTube TV comes with bonus content from YouTube Red, the ad-free subscription service, and Google Play Music
One can stream YouTube TV to any device with a screen and internet connection such as connected TVs and set-top boxes, phones, tablets, and computers.
Google with its Youtube TV initiative may end up killing cable Tv because as per the last survey by Piper Jaffray on 10,000 US teens showed a whopping 26% of teens watched YouTube every day, putting it over the cable TV for the first time (at 25%).
In addition, Google can also command higher ad prices because it has far better data on users than cable TV companies do. However, in all situation, it's the consumer which will get the better deal for sure.