icliniq .com Orane Healthcare India
Average rating:
11 reviews
Mar 13, 2020
Query service is questionable
I availed the query service that cost about Rs 250.
At least my experience has not been good. I submitted my annual medical test reports and asked for a review, all I got was the response that was mentioned in the report. The reports can be read by anyone as the reference values are given. What I was looking for was if any medication required, for ex. I have cholesterol and wanted medication if required. The response I got was you have cholesterol. That I know from the report.
Jan 26, 2020
Scam Website
I agree with Subodh. This is a very dangerous site because of the incorrect diagnosis they provide. I have worked under doctors for more than 3 years and I can clearly say that the diagnosis I was provided of this site for a simple problem was truly incorrect and super unprofessional.

I feel very bad for the patients who might be seeking immediate treatment from this place especially related to psychology and psychiatry. When I wanted to give feedback the page is dead and I can provide no comment. I conducted an extensive search through of the site's social media, trust pilot pages and can say that they have created their own customer feedback which are positive. Not sure if the doctors in this site are real even. Can tell these people are working for money but I'm not sure how can they sleep at night while lying to people and ruining their mental health or giving fake diagnosis.

They might soon reply to me for this post with clarifications and etc which is the common practice to prove their reliability. My advice to the people: please go to a real practitioner for advice with a good reputation. The internet is not that much of a safe place for a medical/psychological evaluation.
Jan 14, 2020
Icliniq platform
My name is Dr Arun Mehta,a US Board certified Internist and cardiologist .I registered upon invitation 3-4 years ago but never participated. I responded to an E mail received in late 2019 and responded to a few queries.
I have done careful study of the website.This is Coimbtore based company .I have read 18 pageT&C and legal disclaimer carefully.Website is smartly made,efficiently monitored and client/doctor can only reach each other through platform.After in depth study,I decided to withdraw my name and told the company to remove my information from the website so thye do not use my name as marketing tool. My account had some Rs 580 accrued . i told them to credit the money to my bank account in mid November,provided my account information. To date,money has not been received.
It is fact that medical diagnosis can not be done by such platforms,and treatment is impossible.
I urge All Medical Professionals to NOT take part in such web portals, and DO NOT provide medical service with such business agents between doctor and client./patient.
Such platforms are not in the best interest of people looking for medical care and sound advice which always requires one to one meeting between doctor and patient with no third party/business/platform between them as "broker","moderator" Rating- Must not be used or relied up on.Potentially harmful.
Aug 23, 2019
bull**** website.
I don't need to reiterate the comments here, but it is a waste of money.
Aug 18, 2019
The worst company ever
I wish I found these reviews before I pissed my money away. Basically, my experience was identical to these reviews. No help, probably wasn't even a real doctor. Terrible experience. Pretty much a complete scam.
Jul 3, 2019
Didnt have a clue
The so called doctor replied with a generic message. It did not even relate to the symptoms i have contacted for. Save your money and see a real doctor online on cam.
May 20, 2019
Click Bait
The first query was supposed to be free; turns out to be false advertising. Ended up wasting a bunch of time getting all the facts of the case in. However, backed out before paying.
May 16, 2019
Hopeless
Wouldn't even give 1 star.
In my case unprofessional and not worth the time if trying to seek actual professional Medical advice or concerns.I paid the amount to talk to a doctor for 50 hours, barely got response back, describe my symptoms and received completely different unrelated diagnose to what i was suffering with. For treatment recommend was useless. Waste of time better of seeking help from professionals who know symptoms of illness and not completely ignore there patients.
May 4, 2019
cheated me
i paid $19.99 usd for a 4 hour responsr but got nothing!
asked for refund, no reply.
Oct 10, 2018
Horrid
I wouldnt even give them 1 star. I tried them out since the first query is free. I submitted a picture of my issue as well as a detailed description of what i was experiencing. The reply i got was just to visit a doctor and keep the area clean. That was it. No educated guess, no other information, nothing. You cant even reply to the doctor without paying them 15.00 which is terrible! If i paid for this answer i would have thrown a fit. This site is utterly useless if im just going to get the suggestion to see my doctor.
Review about the icliniq.com  from Orane Healthcare India Pvt Ltd.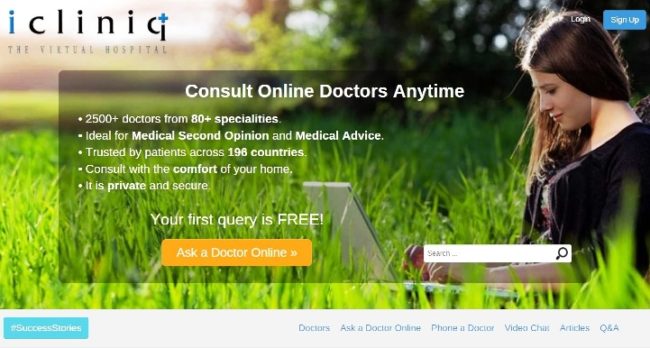 I used this service on the 4th Sept 2017 due to an emergency and found it not only overpriced but also quite unsatisfactory and sneaky.
Often people want the second opinion and in an emergency, people want urgent advice.
All that glitters (Apple) is not healthy and tasty
The reason I stated that this service is sneaky because on the home page website mentions your first query is FREE and interface of this site is appealing and instead of asking money first it straight asked you to fill up the information about the health issue. You start filling the information and finally, when it comes to sending the query to the doctor (by now you would have already spend 20-30 minutes in drafting your health query) it shows you the message that FREE query will take one week or more but for a quick reply, you need to pay.
I have already spent almost half an hour and decided to pay thinking at least if it can help sort the situation and it charged me 15.43 Euros.
Free Yoga for the Indian government employees
Now the reason I said it was unsatisfactory that doctor reply was short and hardly explain anything about the issue. When I send a reply to the doctor to further explain the health situation and the basis of diagnosis again reply was short few lines and not clear. By the time I wanted to have more clarity website shows now you need to pay more for getting the clarity???
Worst things was that the diagnosis which was suggested to us via icliniq doctor came out the wrong and actual problem was something else.
I later tried some other online services where not they were quite economical but also doctor called us back on mobile and discuss the situation in detail. So my review of this business will not be even one because it was my time waste, money waste and wrong diagnosis and no customer service.
The only thing positive on this website is it looks professional which in reality is exactly the opposite. I don't believe any business can run in the long run with unprofessional services whose only aim is to make money by sneaky practices.
Dr Praveen Agarwal Orthopedic Review