Good news for the home buyer as HSBC started one-day mortgage approval service to reduce home buyer stress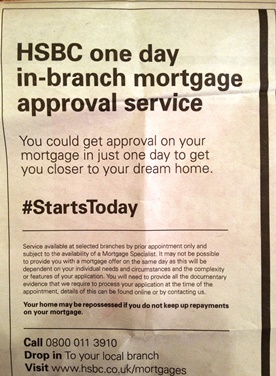 According to the recent Which mortgage advisor poll, there's only one thing more stressful than buying/selling a home and that's divorce.
As per another poll conducted in the past by Dail Mail, buying a house is more stressful than bankruptcy, divorce and even the death of a loved-one.
Above poll certainly highlights the fundamental truth that buying a home in the UK is a stressful job to do.
There are many factors which compounds the stress while buying the home such as slow solicitors, the risk of it falling through, difficult estate agents, etc.
Mortgage approval service only adds the problem because in the past even though HSBC was offering attractive mortgage rate however their approval process was very slow and cumbersome.
First you need to get an appointment, then one of their representatives will assess your document, than again meeting with their branch manager and still final approval by their mortgage department.
Although mortgage approval process is a bit simpler with other banks such as Nationwide.
However finally, HSBC seems to be catching up with that and have started one-day in-branch mortgage approval service as per this ad in the newspaper so good news for the home buyer.
Divorce is the only thing more stressful than buying a homehttps://t.co/GGOrv3imCO

— Weetwood Homes (@WeetwoodHomes) January 10, 2016